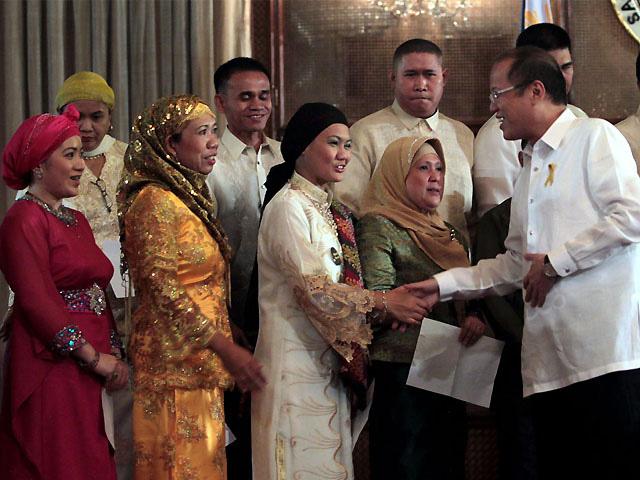 This is the first time I am in the company of Muslim women and I've discovered that they also laugh at Christian men's point blank jokes and pranks. My new friends are all from the provinces of the Autonomous Region in Muslim Mindanao or ARMM and we are attending the Trainer's Training on the Enhanced Family Development Session (FDS) Manual for Civil Society Organizations (CSO) at Bay View Hotel along Roxas Boulevard in Manila. Said training of trainers (TOT) is jointly spearheaded by the Department of Social Welfare and Development (DSWD) and a faith- based CSO called I-Help.
The FDS is part and parcel of the government's Conditional Cash Transfer (CCT) or the Pantawid Pamilyang Pilipino Program also known as 4Ps. FDS is designed to be given to household grantees or partners as one of the requirements to avail the cash benefits. Each session will run for minimum of two (2) hours every month with maximum of thirty (30) participants consist of the household grantees and their spouse or any adult member of the family with children. Surrogate parents may also attend and join them. I am wearing my other hat (or should I say bull cap?) in that occasion for I am representing KAAGAPAY NGO-PO Network the entire five (5) training days. Each session is aimed to strengthen the promotion of family life among household partners by imparting basic knowledge and skills in meeting their familial and parental responsibilities. It is also designed to build community participation and development among them and other community members. Our training consists of main topics such as Disaster Reduction and Risk Management, Child Care, Adult Learning, among others.
The Muslim women in our cluster consist of Faridah D. Alango of Al-Mujadillah Development Foundation (AMDF), Monarassana A. Muctar of WASILA-Basilan, Arfaida A. Aral of Unified Successors for Change, Noraya S. Mohamad of AMDF-Pilipina and Aivie D. Gambe of ARMM. They are of different ages and civil status but all intelligent, dedicated and committed. They are not only limitedly adhered to women's cause but in all dimensions of the Muslim's socio-political life especially in renouncing violence as a way to attain peace and freedom.
In Sablayan, 4Ps was already availed by 3,843 beneficiaries. More are expected to undergo this program since the municipality is targeting to serve at least 5,000 beneficiaries and getting positive response from target communities. The program will continue all over the country until 2015 as assured by Secretary Florencio Abad of budget department and P45 billion pesos is allotted for the so-called
"grand dole out"
for 2013. Though Gabriela Party List Rep. Emmie de Jesus lambasted the program saying that it has no positive impact, my new friends said that in their poverty- stricken and war- torn communities, the program gradually augments household economic needs. While I agree with de Jesus in saying that the government have to create and implement strategic economic programs but at the same time, temporary financial aid cannot be set aside to alleviate poverty. But there is also a grain of truth to the recent findings of the Commission on Audit (COA) when it reported that DSWD failed to validate household data which resulted in discrepancies. There is still a lot to be done to make it more responsive and fruitful especially in this aspect. The door for improvement of 4Ps should never be kept ajar. It should be open wide instead.
I also learned that in a Muslim woman, pregnancy is an opportune time for spiritual renewal for no prayer is allowed during menstruation. By the way, I've learned this not from those women I've mentioned but from a Muslim guy named Mudz Hailanie of PCART from Sulu while I am puffing my Marlboro and him his Philip Morris. At the upper deck of the hotel at its pool side, we compared notes and shared nicotine and second hand smoke altogether.
This is the first time I have exchanged ideas, work experiences and laughter with our Muslim sisters. I have already shared this to some of my FB friends in our group called SOME but I want to retell it here in
"Minding Mindoro".
When our physician facilitator asked,
"Why Early Childhood Screening is important?"
They all burst into laughter when the stupid in me spontaneously answered,
"To protect them from mosquitos!"
To tell you, this is just an example of chain of foolishness that I shared.
"Laughter is the best medicine"
says a Reader's Digest section but for me, making people laugh is not only to kill boredom but to cover things that I am ignorant of like all those health workers' stuff. There's also a point when I asked them,
"Why is it that a Health Center is called a "center" even if it is built in the side?"
Truly, Muslim women like any other women of faith, celebrate life by laughing and comical acts and by opening themselves to new male friends regardless of religion and other human distinctions. In his book
"The Feast of Fools"
Harvey Cox has this to say:
"Only by learning to laugh at the hopelessness around us can we touch the hem of hope. Christ the clown signifies our playful appreciation of the past and our comic refusal to accept the spectre of inevitability of the future."
Laughter in a way is a manifestation of both Christian and Muslim hope, so it can also be considered as an expression of faith.
My new friends are Muslims and they are all good and they are very much alive! …
-------
(Photo: Benhur Arcayan of GMA News)