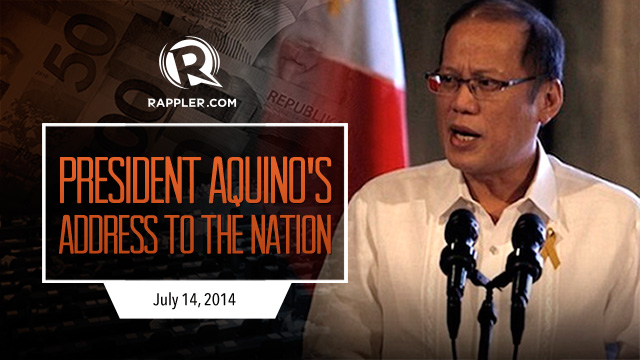 Right before typhoon Glenda hit the country at around 6:00 in the afternoon last Monday, President Benigno Aquino III delivered a televised speech defending the Disbursement Acceleration Program (DAP). Glenda crossed the Bataan-Zambales area Wednesday afternoon before exiting to the West Philippine Sea later in the day. Many municipalities were submerged with flood especially the coastal barangays and those near riverbanks. Classes at all levels were suspended and major thoroughfares across Occidental Mindoro were cut. Low-lying areas in San Jose are submerged with water. All over the country, Glenda has left at least 38 people dead with initial reports indicating damage to infrastructure and agriculture could be extensive.
No less than Occidental Mindoro Representative Josephine Ramirez-Sato, a staunch Aquino ally was, according to reports, personally invited by the President to witness to the Chief Executive's airing of 14-page, 23- minute speech. As one of her constituents, I am deeply honored seeing her with the president along with few selected officials and personalities personally handpicked by the president.
But while there are groups who believe that Aquino is liable for culpable violation of the Constitution and betrayal of public trust for authorizing the creation of DAP where key provisions of which have been declared unconstitutional by the Supreme Court, the president's local political supporters are right behind him in justifying his handling of the 149 billion DAP.
Upon seeing Congresswoman Ramirez-Sato on television right there when PNoy delivered his speech, these questions suddenly came to mind: Does the president, like in his home province Tarlac, have a pet project here in Occidental Mindoro under DAP? If yes, what and where specifically are those projects? Our people would be very happy if somebody from the concerned offices would educate us on this. Budget secretary Florencio Abad and even President Aquino himself claims that the DAP was designed to stimulate the economy but the people of Occidental Mindoro have no idea how it worked here, how we are benefiting or about to benefit from it or how it would help our local economy.
Pardon me but the first thing that came to my mind last Monday when the president speak about DAP is not the boosting of local economy here in Occidental Mindoro. What I immediately realized are the big allocations of money and transfer of funds among government agencies and the freezing of millions of pesos of money in some institutions' coffer. Like the payment by the Bureau of Customs of its P2.8 billion debts to the Philippine Deposit Insurance Corp. and the payment by DepEd of its P4.1 billion debts to the Government Service Insurance System or GSIS, among others. My brain maybe selective but that's how it worked that night.
While I believe that there's nothing wrong with using the savings of the executive department to stimulate economy (assuming that Malacanan people are not lying and in good faith) the so-called power of the purse or the national budget belongs solely to the Congress. And being a veteran legislator, our representative definitely knows that. Any realignment of budget to other projects not provided in the General Appropriations Act or GAA should still pass through Congress in the form of supplemental budget.
They, the Aquino supporters here in my place, said that DAP and PDAF are different. They say, "Sa PDAF ni Napoles may kurapsyon. May mga pulitiko at mga bogus na NGO na nakinabang, samantalang sa DAP naman ay walang pandarambong na nangyari. Hindi naman kumita dito si Abad at si PNoy!" Sorry but I am into opinion that the DAP and PDAF are one and the same in terms of demonstrated lack of respect for public funds, social and government institutions and the Constitution. Remember, not all unethical acts and scandals are categorized as corruption!
But I am not into PNoy's impeachment, to make myself clear. For me, it's just a waste of time and resources since impeachment is just a political process and in the end it is only the politicians, its main players, would play the numbers game. On the other hand, I am also not in favor of the filing of TRO against the recent Supreme Court's ruling on DAP for it would result to more constitutional and legal vacuum if not chaos. But I'll reserve that for another blog entry.
Now that typhoon Glenda is gone, DAP is expected to storm the nation if the president and his supporters overly assert it…
(Photo: Rappler)